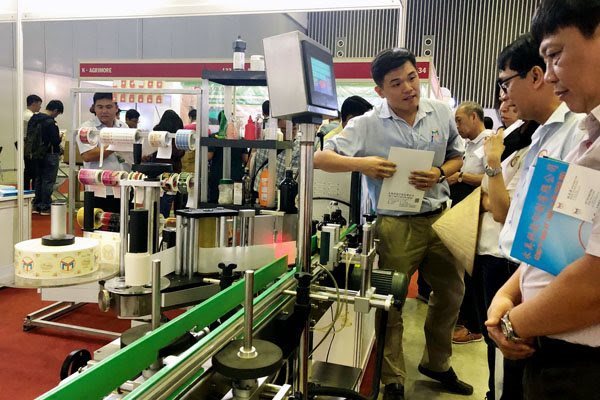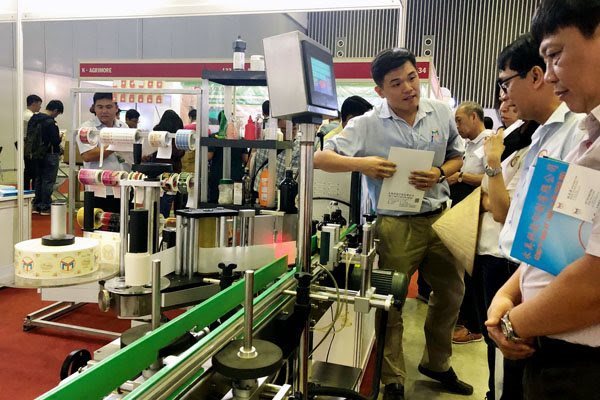 Visitors inspect machinery at Vietnam PFA 2019. Vietnam's harvesting, processing and preserving methods for farm produce remain poor – PHOTO: LE HOANG
HCMC – Vietnamese farm produce, especially vegetable products, usually see reductions in quality during the distribution process, since the country lacks modern technologies to preserve and process items after being harvested.
Techniques deployed to grow and process farm produce remain too simple, according to Dang Phuc Nguyen, general secretary of the Vietnam Fruit and Vegetable Association (Vinafruit).
Addressing the opening ceremony of the Vietnam international exhibition on processing, packaging, and preserving food and agricultural products – Vietnam PFA 2019 – on July 24 in HCMC, Nguyen said Vietnam exported US$3.8 billion worth of vegetable products last year, outnumbering that of tea, peppercorn and rice, which have been the country's key farm produce.
During the first half of 2019, the vegetable export turnover totaled US$2 billion, and is expected to reach the target of US$4 billion by the end of the year.
Despite the higher export value, agro-aqua-forestry products in general and vegetables in particular were exported as raw, fresh items, or underwent preliminary processing, while the volume of deeply processed products remains small.
The country's harvesting and preserving methods are much poorer than those used in Thailand or the Philippines. Such ineffective measures resulted in 30%-40% in lost revenue, while local farmers gained lower-than-expected profits, he said.
The Vinafruit representative added that only one out of ten million tons of local fruit products are for export every year, while the remainder is consumed domestically, but the amount of fruits being processed remains modest.
Fruit is the key export item in the local agricultural sector. However, the export of raw or minimally processed fruits will make local fruits less competitive than those from other countries, which boast the use of modern technologies in processing and preserving products. The quality of fresh fruits will not be the same during the transport process.
Meanwhile, annual foreign investment in the local fruit processing sector is still low, accounting for a mere 1% of foreign investment pledged to Vietnam. Investors showed less interest, since it will take a longer time and much effort to recoup capital, Nguyen said.
To address the issue, he suggested the country invest heavily in deep processing for fruits and other farm produce, in a bid to increase export value, as well as improve the competitiveness of the agricultural sector.